Récital de piano
Marcos Madrigal
19 juin 2022 - 17h
---
"In order to capture the extraordinary ingenuity of the «Rhapsody on a Theme of Paganini» by Sergei Rachmaninoff, the particularly brilliant and almost electric touch of Marcos Madrigal turned out to be an excellent option.
He managed to be at the same time dazzling in his purity of sound, decisive and aggressive when the occasion required it, as in the preparation and attack of the medieval «Dies Irae» of the seventh variation, almost sinister in the seventeenth one and fiery in the nineteenth one, whose apparently impossible jumps were performed with an overwhelming confidence."
F. Javier Santos – ABC (Spain)
"He plays with taste, musicality, lyricism and sensual freedom. Here is a pianist who regales us with so many emotions."
Alberto Cima – Corriere del Ticino (Switzerland)
"He gave absolutely superb performances throughout the evening, handling the repertoire like a great master, with superb variety of touch. [...] his entire programme was quite out of this world!"
Bill Newman – Music & Vision (United Kingdom)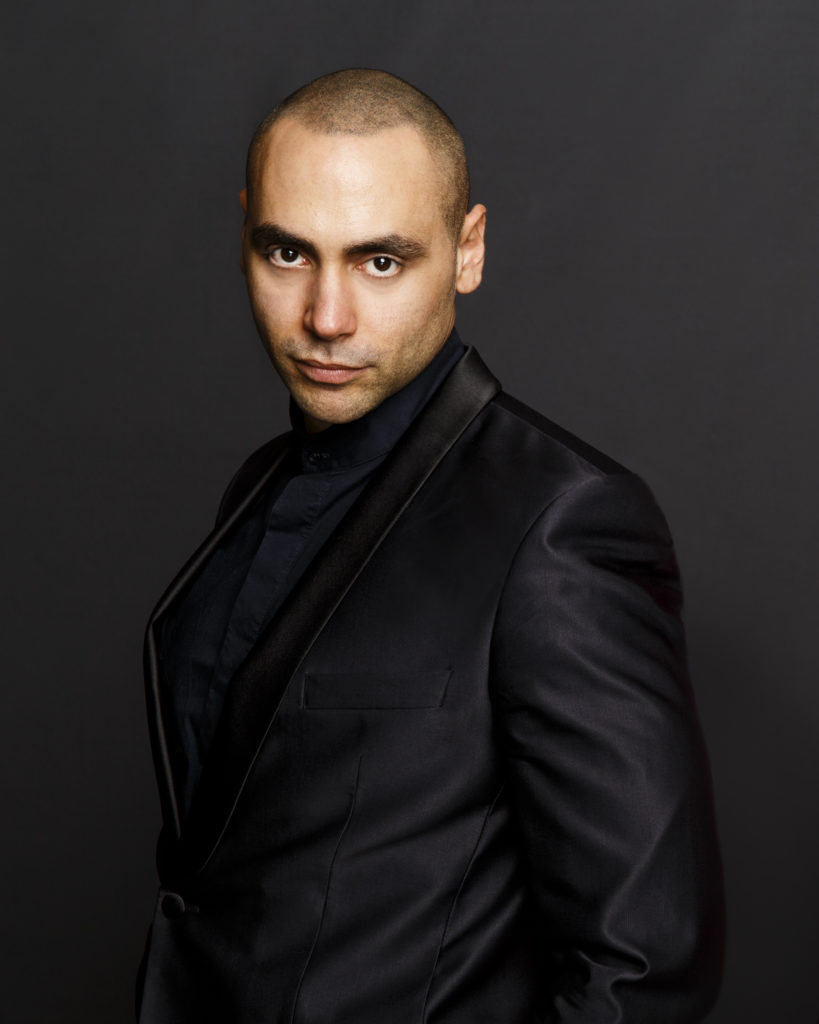 "This is the new genius who shows us that the Cuban music school is as alive as ever."
Melomano (Spain)
"It will be a long time before Bogotá sees again a pianist like Marcos Madrigal, who turned the theater into a real party, revealing the marvels of Cuban piano music. A truly outstanding concert, a luxury only an artist with impeccable technique and quality of sound can afford."
Emilio San Miguel – El Nuevo Siglo (Colombia)
"Saint-Saëns' concert n. 2 for piano and orchestra, in the hands of Marcos Madrigal, was even more spectacular than it already is. Madrigal is a pianist of great strength and temperament, and this strength is directly transmitted to the piano."
Gonzalo Roldán Herencia – Ritmo (España)
"Every moment of Madrigal's performance was expertly executed [...] The third movement was a hailstorm of musical genius, which Madrigal played with impeccable technique and an undeterred sense of lyricism."
Oberlin News (USA)
---
---

I Part
Sergei PROKOFIEV
Visions Fugitives op.22
Lentamente
Andante
Allegretto
Animato
Molto giocoso
Con eleganza
Pittoresco
Commodo
Allegretto tranquillo
Ridicolosamente
Con vivacità
Assai moderato
Allegretto
Feroce
Inquieto
Dolente
Poetico
Con una dolce lentezza
Presto agitatissimo e molto accentuato
Lento irrealmente
Sergei. RACHMANINOV
Sonata N. 2 op. 36 (1931 version)
I Allegro agitato
II Non allegro - Lento
III L'istesso tempo - Allegro molto
II Part
Ernesto LECUONA
Córdoba
La Comparsa
---
Informations
Ouverture des portes : 16h00
Fermeture des caisses : 16h45
Début du concert : 17h00
(Important : les réservations sont maintenues jusqu'à 16h40)
---
Billets
| | |
| --- | --- |
| Plein tarif (caisse du soir) | 30 EUR |
| Prévente | 25 EUR |
| Ticket + Carte Membre Altrimenti | 35 EUR |
| Etudiants <18 / Membres Altrimenti (caisse du soir ou prévente) | 20 EUR |
Abonnements
| | |
| --- | --- |
| 3 Concerts | 70 € |
| 6 Concerts | 140 € |
Abonnements Membre Altrimenti
| | |
| --- | --- |
| 3 Concerts | 50 € |
| 6 Concerts | 100 € |
Attention : l'accès à cet événement est soumis à la présentation d'un pass sanitaire valide.
Le régime CovidCheck est appliqué
---
Pour informations et réservations:+ 352 28778977 - cultura@altrimenti.lu
Conditions de vente des billets
Les billets ne peuvent être ni repris, ni échangés, ni revendus, ni remboursés
Dans le cas d'annulation de la manifestation, Altrimenti s'engage, sur demande du Client dans un délai maximum de trois mois à compter de la date du spectacle, à rembourser les billets.